After coming back from Spain I was involved in making a few training related bits of media. Firstly I had a fun interview with Neely from TrainingBeta, which can be found here: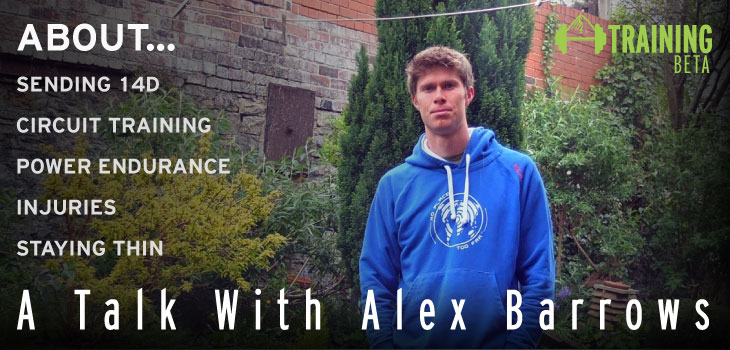 If you've not listened to the others in the series and you're interested in how people train then they're worth a listen whilst you're pootling around doing aero cap or similar.
Next up was a video on endurance training for the Depot Nottingham (who've got some rather good looking boards for bouldering on, though I didn't get the chance to test them out much):
So, having basically told everyone about how structured and dedicated I am, I promptly decided to spend a while being unstructured and doing - almost - whatever I wanted with my climbing. I'm now planning on switching back to being a little more planned in my approach, but for the past couple of months I've been really enjoying spending a bit more time doing what I want to be doing instead of what I 'should' be doing! In between pondering more important questions like "When's Liam L going to fight Sheffield Rumours and who's going to drive him to hospital afterwards?" and "Now that I've stopped my facebook feed filling up with fishing photos, how do I stop it filling up with dog photos?" this meant spending my weekends going to Malham, a crag which I typically go to at the start of the year, get psyched for, and then don't go back to for some reason.
I was going to put a photo of Malham, but I don't have one, so you'll have to make do with a shot of my fly wheels instead. Speakers in the front with the bass on krunk. (Photo: GVG)
This time around I've managed to get up there a fair bit, working my way through some of the glaring omissions from my logbook. First up was the classic and popular
Bat Route
(8c), which features a wonderful series of tricky sections between good rests. Next on the list was
Cry Freedom
(8b+/c), which whilst perhaps not quite the same quality of line as Bat Route, has just as good climbing and features a fine excuse to gaffa-tape a piece of rubber to your leg (as if I need an excuse). Highlights on this one include falling out of a no-hands kneebar like a douche. Good thing there were no superstars like Ben Moon at the crag to laugh at me that da... oh bugger
.
More importantly, I got to discover the secret of champions when it turned out that Mina's pre-redpoint psyche-up routine involved biting the head off a young Housemartin as a sacrifice to the Yorkshire Lime Gods.
A clown in the sky on Progress (Photo: GVG)
Over the last few weekends I've been mixing it up between local bouldering (read: failing) and heading up to Kilnsey to try
Progress
, a Jerry Moffat 8c+ on the brilliant North Buttress, which seemed like a good way to find out whether my finger was fixed for hardcore crimping, and to re-injure myself spectacularly if it wasn't. Fortunately it seems like the former has, finally, happened, so whilst I can't do too much volume of crimpy stuff it was fine to try once a week.
Progress
is a pretty power endurancy style - a little intro (7A?) straight into a long crux section deposits you at a good hold (7C/+ from the floor to here maybe?). Unfortunately, the route setter fucked up, so the good hold is only big enough for one hand. After a quick chalk there's another long boulder section where it helps to be a lanky bugger, a quick shake on small crimps, where it helps to be a lanky bugger, and then a final section to the first real rest on the route, where it helps to be a lanky bugger. From there things ease, though there's a butch move in the roof you've got to be sure to have some guns left for! Anyway, it's ace in my opinion, really nice climbing and flows well. I knew the final section on the lower wall, moving towards the good rest, was where Tim Palmer fell a lot before doing it last year, but I kind of had it in my head that I'd be ok there. In these situations, until you get there on redpoint you can never tell whether thoughts like that are totally naive or just having faith in yourself and what suits you. Fortunately it seemed to be the latter and on Sunday I managed to stam my way up the thing. The moral of the story? Trust yourself.
"How can it be 8c+ if your belayer can take a photo when you're on redpoint?" (Photo: GVG)